Student Loan Debt And Mortgages: Here's How To Make It Work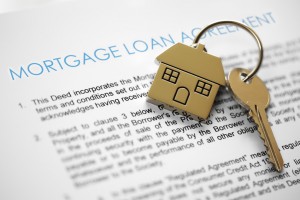 Student loan debt is on the rise — with the average student now graduating with debt "approaching $30,000," according to U.S. News and the Institute for College Access and Success. While this isn't good news based on any measure, new studies show it may have even more of an impact than people think. Student loan debt has already lead to an 8% decrease in mortgages and home purchases among Americans ages 20 to 39, and, if prospective home buyers do not take action, that is only likely to get worse. Thankfully, there are plenty of things U.S. men and women can do to reverse this downward trend. Here are just a few:
Reduce And Restructure Debt
Fixed mortgages are the most common loan type or mortgage type, accounting for three-quarters of all home loans. Of course, for many young Americans, the trick is getting a mortgage — any mortgage — in the first place. Reducing and/or restructuring debt is one of the best ways to do it. And paying off student loans in their entirety isn't strictly necessary. Young Americans and prospective home buyers can also pay off other debts whenever and wherever possible. For example, if it is more feasible to pay off credit card debit, do it. This will reduce your debt-to-income ratio and improve your credit score (with more than 75% of Americans having a score below 700). Another option for reducing debt and ultimately securing the best type of home loan is to restructure current debt. Refinancing auto loans — or putting it in the other partner's name (a smart option if one of you stays at home) — is another way to do it.
Increase Income
This way may be easier said than done, but, if student loan debt is simply a reality that you cannot avoid, weight the possibility of increasing your income. Is it possible to get a second job? Is is possible to work overtime? Doing these things may not be easy, but they ultimately go a long way when it comes to securing your mortgage and buying your home.
The best type of home loan for many young Americans isn't one that is 10, 15, or 30 years long — it is the one that they can afford, and reliably secure. Increase your chances of qualifying for a home loan by reducing debts and/or increasing income.